Become a Park Volunteer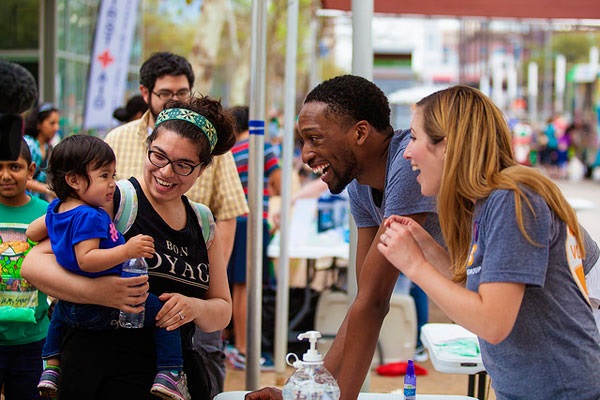 Looking for fun, fresh air, and a chance to make a difference? Then consider volunteering at Discovery Green! There are a number of opportunities throughout the week that your support at Discovery Green would be most appreciated.

Recycling Saturday

Recycling at
Discovery Green
takes place every Saturday from 10am to 2pm. Recycling volunteers help patrons take items out of their cars so they don't have to park to recycle. Volunteers will also help ensure that the items are put into the correct recycling bins. Volunteers choose between two shifts: 11am - 12:30pm or 12:30pm - 2pm.
FUNomenal Family Festival
FUNomenal has been rescheduled until June 25th
Signature Events
There are a variety of Signature Events at the park. They are generally held on Fridays and Saturdays in the Spring and Fall. Each one is different and unique, so volunteer duties will vary.
General Volunteer Information
Volunteers should arrive about 10-15 minutes before their shift to allow time to go into the office, meet the
Discovery Green
volunteer leader, get a Volunteer T-shirt and instructions. Parking is $1.50 per hour at the meters around the park Monday through Saturday (and free after 6 p.m.). Parking lots are about $5.00 and up. Always read the posted signs, which supersede any instruction from park staff.
Discovery Green
Reg. U.S. Pat. & Tm. Off.