NOW CLOSED: Los Trompos (Spinning Tops)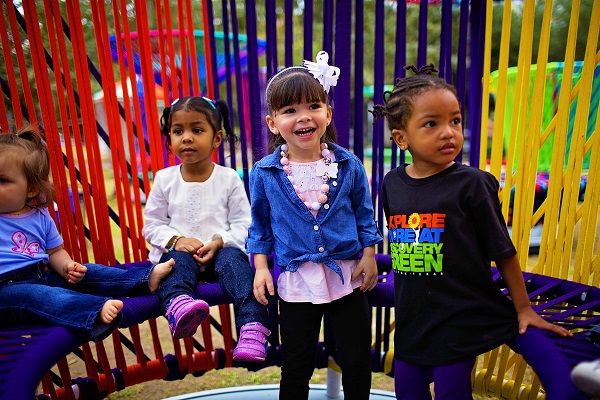 When
November 14, 2015 - March 22, 2016
Free art installation open from 6 am to 11 pm daily
Los Trompos
Installation open from November 14, 2015 to March 22, 2016



Discovery Green

® will energize and engage downtown this fall with a joyful interactive art installation by internationally-acclaimed Mexico City designers

Héctor Esrawe

and

Ignacio Cadena

.

Los Trompos

, or 'the spinning tops,' will be showcased on the park's Sarofim Picnic Lawn from

November 14, 2015 – March 22, 2016.

The colorful, large-scale, temporary installation, which take their form from the common toy, will delight park visitors of all ages.

Experience

Los Trompos

through free performances by Houston artists created especially for this magnificent work of art!

Nov. 27 Two Star Symphony

Dec. 4 Cirque La Vie

Dec. 11 HSPVA Jazz and Dance

Dec. 18 Dance Houston

Jan. 8 Wildfish Theatre

Jan. 15 Suchu Dance

Jan. 22 Rainbow on ICE!

Jan. 29 Aerosol Warfare and Houston Lowriders

Feb. 5 Light: Bruce Munro (60 min., 2014)

Feb. 12 Bootown

Feb. 19 Karen Stokes Dance Company

Feb. 26 Fly Dance Company

Mar. 4 Houston Hepcats

Mar. 11 Orbit Slams!

Mar. 18 MECA Houston



All performances begin at 7PM.



Visitors can share their experiences using hashtag #LosTromposHTX.


Los Trompos at Discovery Green is made possible by a generous grant from the Kinder Foundation. Additional support is provided by the City of Houston through the Houston Arts Alliance, the Consulate General of Mexico in Houston and the professional services of the Weingarten Art Group.


About the Art
Los Trompos draws inspiration from spinning tops, the internationally popular children's toy. Twenty 3D structures will feature a variety of colors and shapes, creating a vibrant sea of movement. The tops will only spin when manipulated by two or more people, fostering an engaging connection.

The tops in Los Trompos are all woven in a traditional style used by Mexican artists and will be assembled on site. Each top has a unique shape inspired by nature and traditional Latin American design, architecture and folk art.
About the Artists
Esrawe and Cadena work together at their interdisciplinary design firm E+C® in Mexico City and have participated individually and together in various projects around the U. S. and Mexico. Los Trompos was created by the designers during their residency at the High Museum of Art, Atlanta. Upon invitation from Discovery Green Conservancy, Esrawe and Cadena visited the park and selected the Sarofim Picnic Lawn to develop this unique site specific presentation of Los Trompos for its second iteration.
Artist Statement
"The concept behind Los Trompos is based on traditional toys, their colorful expression and the way they are constructed." said Esrawe. "We like the idea of translating these techniques into new symbols used to create an interactive piece that is part installation, part furniture and part playground, a place where human connections are made. Los Trompos is a place of color and joy!"
Art at Discovery Green®
Esrawe and Cadena's installation is the second selected by the Conservancy's recently-established Public Art Committee, chaired by Judy Nyquist and comprised of community experts dedicated to bringing the best international art to Discovery Green. Chosen for their creative and colorful designs, Esrawe and Cadena also shares the park's commitment to connecting the community through art.

Descubra más sobre Los Trompos en español
aquí
.

Discovery Green Reg. U.S. Pat. & Tm. Off.