Water Play at Kinder Lake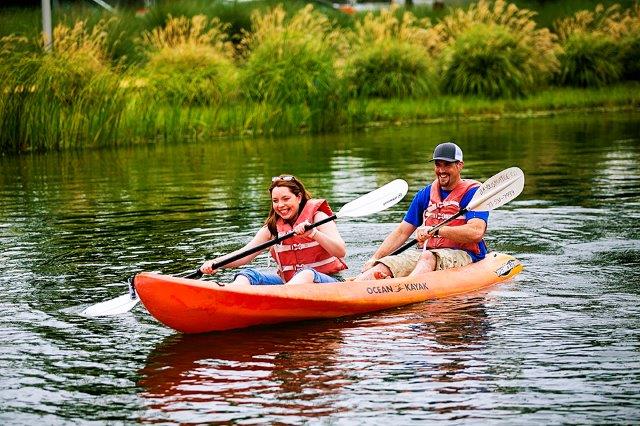 When
Weekends March 4- October 29 11am-7pm
Kayaking on Kinder Lake at Discovery Green® is a fun and easy way to try out this water sport beneath the shadow of the Houston skyline. Leisurely kayak the shallow Kinder Lake and enjoy all the fish swimming beneath the surface. Kayak and R/C sail boat rentals is provided by Bayou City Adventures and subject to weather conditions. If you have any questions, or would like more information please call 713-538-7433.
Times and Dates:
Kayak
Monday-Friday from May 30- August 25
Hours: 11am- 6 pm
*Memorial Day Hours: 11am- 7pm
Saturday- Sunday from March 18-December 17

R/C Sail Boat Rentals

Daily from April 15- October 29
Monday- Friday hours: 11am- 6pm
Saturday- Sunday hours: 11 am- 7pm
Kayak Rides
Facts to know before you go:
o No RSVP required. Kayak rides are $5 per person. (Includes kayak rental and ride)


o Children must be signed in by a parent or guardian, no exceptions.


o Parents, you don't have to ride if you do not want to. The kayaks will be limited to two children and a guide OR one adult, one child and a guide. (3-person maximum) You can hire a guide for $5 to ride with your children.


o Each ride will consist of 15 minutes around Kinder Lake.


o Wear clothes you don't mind getting wet! Life jackets will be provided to all guests


o Only approved kayaks rented through Bayou City Adventures can be used on Kinder Lake


R/C Sail Boat Rentals

R/C Sail Boats are available weekends 10am- 30 minutes prior to sunset, starting April 8th. The cost is $5 per boat for 15 minutes.
PLEASE NOTE :


Kayak rentals are subject to weather conditions such as rain or lightning at the discretion of Bayou City Adventures.

Discovery Green Reg. U.S. Pat. & Tm. Off.