Lens - Pluralism – Bubbles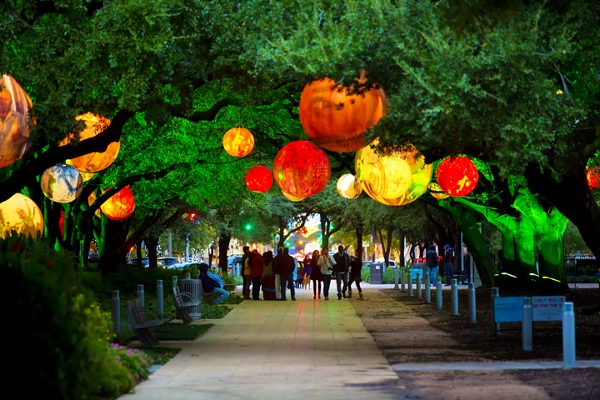 Lens - Pluralism – Bubbles is a holiday installation at Discovery Green by the artist David Graeve. This installation features glowing ornaments in the live oak trees along the Brown Foundation Promenade and at the corner of La Branch and McKinney. The globes are internally-lit by energy-efficient fluorescent lights. The pictorial globes bring to life photographs, some of which are vintage, others taken by the artist or by students under his direction. This installation has been featured at the holiday season since Discovery Green opened in 2008. It was created in partnership with Buffalo Bayou Art Park and artist David Graeve.
The ornaments will be on display November 23, 2013 through February 2, 2014. While on display, green floodlights will accent the installation along the Brown Promenade. The green lights are turned off twice each evening, 8-8:30 p.m. and 10:30-11 p.m., so that onlookers may enjoy the changing lights.
Photos by Katya Horner.