NOW CLOSED: Firmament by Christopher Schardt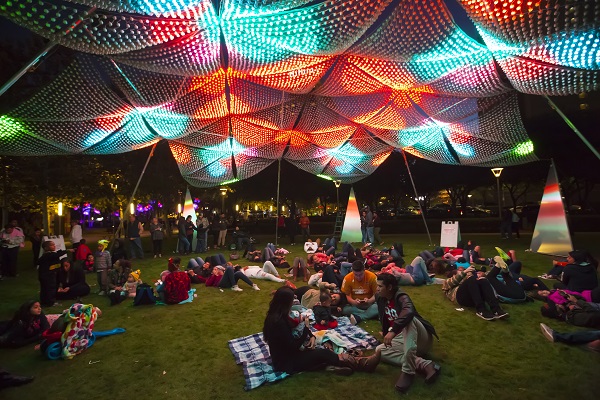 When
Unfortunately, due to a technical difficulty, Firmament is now closed.
FIRMAMENT
Unfortunately, due to a technical difficulty, Firmament is now closed.
Illuminated from dusk to 11 pm
Discovery Green® captivates downtown visitors this winter with
Firmamen
t, a vibrant canopy of LED lights by acclaimed Burning Man artist
Christopher Schardt
.
Firmament
enlivens the
Sarofim Picnic Lawn
from November 22 through January 8, 2017!

Firmament
is a 52-foot wide, canopy of 21,600 LED lights, suspended from a 42-foot high aluminum tower. The tower is elevated on six legs forming huge equilateral triangles with the ground. At its pinnacle, a 21" diameter LED ball serves as a beacon and will be visible from long distances.
Visitors can gather under the structure as the LED lights display celestial, playful, psychedelic and brightly abstract images. A continually changing musical element engages visitors' senses creating an enveloping, comforting, communal environment below.
Discovery Green
will seek input from Houston musicians and the community to determine musical selections, make sure to check back for the full line up!
Share your experience using the hashtag #discoverygreenart
ABOUT THE ARTIST

Christopher Schardt
is a San Francisco-based sculptor, artist and computer programmer. He is widely known for his art installations created for Burning Man, the annual gathering of arts and music fans in Black Rock, NV, over the past 20 years. Schardt aims to create work that inspires connections and interaction.
"I created
Firmament
for the Burning Man Festival in 2015 and was overwhelmed by the number of people who crowded underneath it for hours," said Christopher Schardt. "
Discovery Green
will be its first installation in an urban setting and I look forward to seeing how visitors engage with
Firmament
during its 6-week exhibition."

ART AT DISCOVERY GREEN
Also debuting this winter is
Enchanted Promenade,
towering colorful peonies by
TILT
, a French light and design studio. An initiative of
Discovery Green
's thoughtful and engaging interactive programming, this winter's installations promise to capture the imagination of Houstonians, tourists and park-goers. This will be Schardt's Texas debut and TILT's debut in the United States
The installations mark the third year of artwork selected by the Conservancy's Public Art Committee, chaired by Judy Nyquist and comprised of community experts dedicated to bringing original and inspiring art to
Discovery Green
. Art programming is funded in part by a grant from the City of Houston through the Houston Arts Alliance.
Firmament
and
Enchanted Promenade
further the park's commitment to connecting the community through art.

Discovery Green
visitors can also enjoy the park's iconic public art pieces year-round: Jim Dine's
The House (Heart)
, Jean Dubuffet's
Monument Au Fantome
, Margo Sawyer's
Synchronicity of Color
and Doug Hollis's the
Mist Tree
and
Listening Vessels
.

Firmament
and
Enchanted Promenade
at
Discovery Green
are made possible by a generous grant from the Kinder Foundation.

Discovery Green
Reg. U.S. Pat. & Tm. Off.