NOW CLOSED: Maravilloso! The Water Festival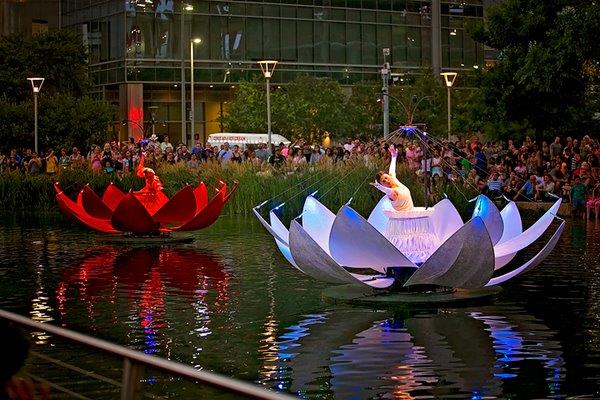 Maravilloso! 2015: The Water Festival
Discovery Green
® welcomed the return of Maravilloso!, a contemporary circus and dance event featuring talent from all over the world and from Houston on June 5-6, 2015. More than 5,000 park goers attended the
two-day event featuring graceful performances on Kinder Lake created by Belgium's artistic company Chanson d'Eau.


Three Houston dancers Catalina Alexandra, Kristen Frankiewicz, and Michelle Mayo performed on Chanson d'Eau's glowing flowers floating on Kinder Lake to original music.
Art and music created by Belgian artist Yaso Romero Fernandes. The festival also included a new commissioned dance performance celebrating water, called "DRENCH," by Karen Stokes Dance.

Karen Stokes Dance is a non-profit dance company that has been producing original dance-theater in Houston since 1999. During this time, KSD has performed in New York City, Toronto, Philadelphia, Cleveland, Dallas, Kaarlstad (Sweden), and in Houston, Texas. In 2014, Karen Stokes was named number one choreographer by the Houston Press in their Top Ten Houston Choreographers list. In 2013, Houston Press awarded Karen Stokes with a Masterminds Award, the first contemporary dance company in Houston to receive this recognition for innovation in the arts.

Flower workshops led by paper artist Balushka and origami artist Kyle Fu took place leading up to the weekend event. The paper flowers created at the workshops formed a beautiful installation for the audience to take pictures with during Maravilloso.
Maravilloso! was made possible by grants from the City of Houston through the
Houston Arts Alliance
, the
National Endowment for the Arts
, and the
Kinder Foundation
. Special thanks to our media sponsor,
Yelp
.
MARAVILLOSO 2014: Contemporary Circus
The inaugural event in July 2014 brought thousands of spectators to the free, two-day event that featured special performances by
Barolosolo Cirkus Company
, Houston's own
Cirque La Vie
, and
FrenetiCore Dance Company
. Audiences enjoyed Barolosolo's performance of "ile O," group acrobatics and contortionists from Cirque La Vie, and fearless dance theater from FrenetiCore.
The July 2014 circus was produced by Discovery Green Conservancy, with the support of the Houston Arts Alliance, Institut Français and the Cultural Service of the French Consulate in Houston.
Pictured above: Houston dancers perform Chanson d'eau. Photo by Katya Horner.
Pictured below:
DRENCH
by Karen Stokes Dance. Photo by Katya Horner.

Discovery Green
Reg. U.S. Pat. & Tm. Off.