NOW CLOSED: Architects of Air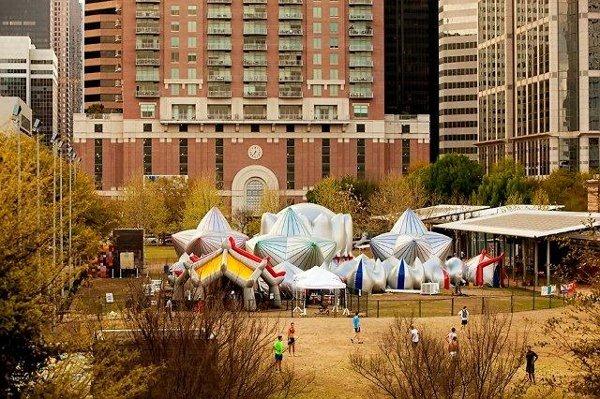 PRESENTED BY
Architects of Air
Britain's
Architects of Air
is a one-of-a-kind artistic experience in which people move through monumental inflatable structures designed to generate a sense of wonder at the beauty of light and colour.
Discovery Green
® has now welcomed two different luminariums to the park, bringing tens of thousands of people to the park to experience this art form. The park is proud to host internationally acclaimed art forms and thanks the generous funding support from the
Kinder Foundation
that made this exhibit possible.
The first luminarium to visit the park in April 2013 to commemorate
Discovery Green's
fifth birthday was
Exxopolis
. Inspired by the circular space of the Chapter House of Southwell Minster,
Exxopolis
featured large windows with small pieces of colored plastic to create a "stained-glass" effect.
In spring 2014, we welcomed
Miracoco,
a stunning new luminarium inspired by the Lotus Temple in India. Rising almost 30 feet in the air and occupying half a football field,
Miracoco
was a dazzling maze of winding paths and soaring domes.
For more information visit
www.architects-of-air.com
.

Discovery Green is a 501(c)(3), non-profit organization.
All revenue made form Architects of Air
Miracoco
at
Discovery Green
supports the park's free, year-round programming.
Take a special look into Architects of Air
Miracoco
at the video below from
Fox 26 News
.
Discovery Green
Reg. U.S. Pat. & Tm. Off.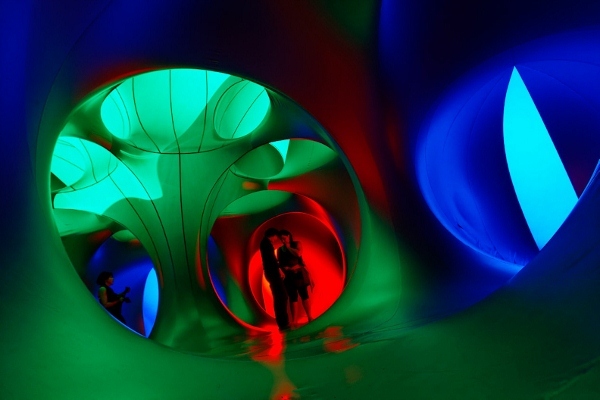 Houston weather, traffic, news | FOX 26 | MyFoxHouston