Andy Mann Video Tree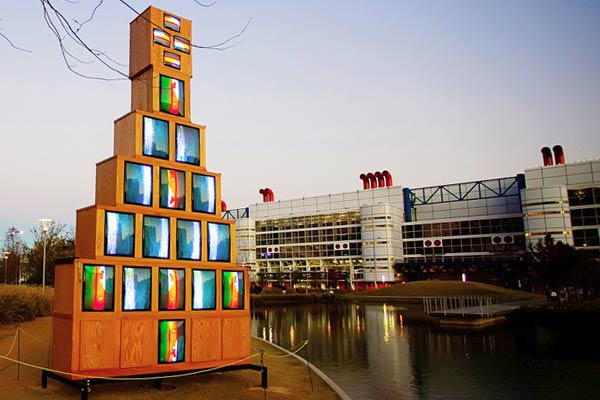 In 1990, Andy Mann created the original Video Tree for Central Houston, Inc.'s holiday art program. A trailblazing figure in American video art, Andy Mann lived and worked in Houston, inspiring an entire generation of artists. The tree was displayed for more than 10 years on a specially created stand placed in the fountain basin in Tranquility Park in downtown Houston. Made of 16 large televisions stacked to form the silhouette of a Christmas tree, it is topped with four small monitors that form the star atop the tree. Each year, he created a new video program to play on the monitors, which had been altered to flip and rotate the images.
In 2009, Discovery Green Conservancy recreated the Video Tree in the spirit of Andy Mann. Stacked televisions stream Mann's original video content through multiple effects. We worked with Aurora Picture Show, which maintains the Andy Mann video archive of 800 works, and artists Gabriel Delgado and Ted Viens, who both assisted Andy Mann in the installation of the original tree. The Video Tree was displayed in
Discovery Green
during the Winter 2009 - 2013 seasons at the edge of Kinder Lake. Images were reflected in the water as in the original installation.
Special thanks to City of Houston through the Houston Arts Alliance and Thomas Pascal Wil Robinson in honor of Ann and James Harithas.
Discovery Green
Reg. U.S. Pat. & Tm. Off.